Circular Tourism Self Assessment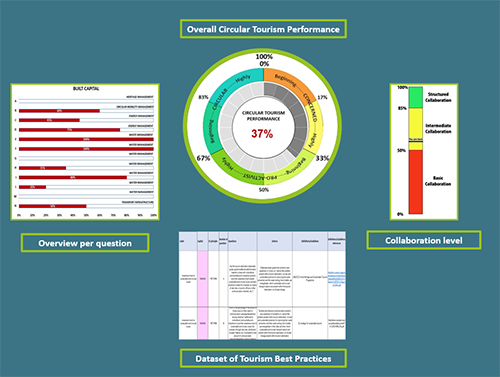 The Circular Tourism Tools are a management and monitoring tools to assess tourism impact both on a destination level (Circular Tourism Destination Tool) and on a tourism industry level (Circular Tourism Industry Tool) from a circular economy (CE) perspective. The Circular Tourism Tools have been built upon existing data gathered through the analysis of grey and scientific literature.
The Framework on which these instruments have been designed is based on four capitals (natural, social, built, human) and on three levels (tourism destination level, tourism industry level and the networking level composed by the interactions that nourish sustainability and circularity between a tourism destination and a tourism industry). The framework also includes five principles of the Circular Economy model (Reduce, Regenerate, Rethink, Innovate, Re-value) that represent at the same time rules on which choices – at every level - should be taken and objectives that a sustainable and circular tourism should achieve. These objectives guide the transition toward a circular tourism model, and, in this perspective, they give a strong support in terms of strategic management of tourism destination and tourism industries.
The necessary collaboration among tourism actors is considered in its supporting action to the achievement of all CE tourism principles, being transverse to them.
---
The Circular Tourism Destination Tool targets mainly managers of organizations that – in different manners – are in charge to define objectives, policies, governance structures, incentives, plans and programs. The INCIRCLE model addressed to tourism destination refers to those who take decisions, make choices, implement actions and projects that are directly connected to the transition toward a sustainable and circular tourism model.
The Circular Tourism Industry Tool targets mainly business managers of tourism industries that usually take decisions and make choices affecting different flows of resources. They can adopt policies, strategies, business models, management systems, communication campaigns, oriented to a sustainable and circular tourism model and the aim of the Tool is to give them a support in doing so.
---
By using the Circular Tourism Tools you can obtain:
an overall circular performance result (expressed in percentage) of your tourism destination/tourism industry;
a circular overview per each question;
an overall collaboration performance result (expressed in percentage);
a dataset of circular best practices implemented in the tourism sector from all over the world that you can consult to find inspiration on how to improve yourself.
The benefits that you can achieve by using the Circular Tourism Tools are related to:
Increasing awareness of opportunities and weaknesses;
Improving the collaboration ability whit its stakeholders and involving them into its continuous improvement of the circular performance;
Reducing the impact on the environment;
Offering innovative and circular services, thinking out of the "business as usual" perspective and adopting a life cycle perspective;
Responding to more environmentally conscious demand by tourists and clients;
Developing new skills and knowledge on where to start and foster the transition to a new circular business model in tourism.
---
The Circular Tourism Industry Tool has been built in 4 different versions for the four main types of tourism industries:
Accommodations (B&B, hotels, hotel chains, etc.);
Tour operators and travel agencies;
Restaurants and food & beverage services (restaurants, canteens, etc.);
Campsites.
Only the versions for accommodations and tour operators and travel agencies area available on the Knowledge Platform; if you are interested in the version for restaurants and food & beverage services and campsites please contact us at helpdesk@incircle-kp.eu to receive the tool and proceed autonomously with the self assessment.
---
Thanks to this assessment you will get a picture of your sustainable and circular performance, so you will know where to start to make your destination and your business more competitive and resilient and take the opportunity to improve your networking involving all your stakeholders and tourism actors in the circular transition.
Do you want to know more about the structure of the Circular Tourism Tools? Consult the guidelines you find in the Knowledge Platform!
Are you a representative of a tourism destination or a tourism industry? What are you waiting for!
Choose your Circular Tourism Tools version and start your journey towards circularity!
To help you in this transition, at the end of the assessment you will be able to find datasets of good practices that you can take as ideas for new solutions to be adopted in your context!
---